As we continue to look out for the first signs of spring, nothing signals the coming of the warmer, brighter season like March Break. From March 16-20, the City of Mississauga is offering programs and activities to keep the fun going all week long.
March Break at the Museum
Maple Magic
Bradley Museum
March 14–22, noon to 4 p.m.
Mississauga's favourite maple tradition returns to Bradley Museum for March Break! Maple Magic celebrates the maple sugaring season with maple sap tours and treats, creative activities, a petting zoo and a tasty pancake lunch that the whole family can enjoy. Plus, learn about maple syrup's fascinating history at the From Tree to Table: The History and Craft of Maple Syrup exhibition running until May 3 at Bradley Museum.
For tickets, hours and more information, visit mississaugaculture.ca/maplemagic.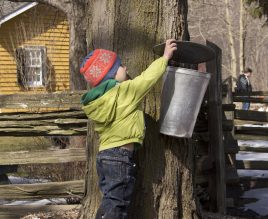 March Break at the Theatre
The Hunchback of Notre Dame
Meadowvale Theatre
March Break dates: March 14 (2 p.m. and 4 p.m.) and March 15 (2 p.m.)
This March Break, why not take a break from the screens and see a live show instead? For the month of March, Meadowvale Theatre is presenting The Hunchback of Notre Dame as part of the Music Theatre Mississauga-Encore Series. Based on the novel by Victor Hugo and with songs from the Disney animated feature, this show is the perfect afternoon or evening out for the whole family.
March Break at the Library
The Library is excited to present two author visits taking place this March Break. Meet the authors in-person and listen to them read aloud from their must-read children's books.
Author Visit: Hilary Leung – Will Giraffe Laugh?
Streetsville Library – Friday, March 20, 11 a.m.
Lakeview Library – Friday, March 20 at 2 p.m.
Hear from Hilary Leung, children's author and illustrator, about his book-making process and listen to him read from some of his popular board books including Will Giraffe Laugh? and his award-winning Ninja Cowboy Bear series.
Author Visit: Joel A. Sutherland – Haunted Canada series
Malton Library – Saturday March 21, 11 a.m.
Central Library – Saturday, March 21, 2 p.m.
Award-winning children's author Joel A. Sutherland will be coming to the library to discuss his journey to success and to read from some of his best works including the famous Haunted Canada series and his newest series Haunted.
There's something for everyone during March Break at the library. Performances, shows, activities and workshops are taking place all week across Mississauga's 18 library locations. For more information about what's on at the library during March Break, visit mississaugalibrary.ca.
March Break at the City's Community Centres
March Break Camps
Various locations
March 16–20
There's endless fun to be had at the City's March Break Camps. Full-day and half-day camps run from March 16-20 at various community centres and culture facilities across Mississauga. Whether your child, tween or teen is interested in art, dance, sports or a bit of everything, there's a March Break Camp for them! For more information and to register, visit activemississauga.ca.
Little Native Hockey League 49th Annual Hockey Tournament – Opening Ceremonies
Paramount Fine Foods Centre
Sunday, March 15, 4 p.m.
Calling all hockey fans! The Paramount Fine Foods Centre is hosting the opening ceremonies for the Little Native Hockey League 49th Annual Hockey Tournament.  Come on out to this free event to celebrate hockey and support Ontario First Nation youth.
Looking to fill your March Break with even more hockey? From March 16-19, over 500 tournament games will be taking place across several City arenas.
Raptors 905 vs Canton Charge
Paramount Fine Foods Centre
Thursday, March 19, 12 p.m.
If you're more of a basketball family, don't miss the Raptors 905 take on the Canton Charge. The Paramount Fine Foods Centre provides the perfect family-friendly environment to catch the action. Get your tickets today.
March Break at Celebration Square
If you haven't laced up your skates yet this winter, now is the time! The Celebration Square ice rink is open for its last week – closing for the season on March 20. The rink is open daily from 10 a.m. to 10:30 p.m., weather permitting. For rink conditions and inquiries, please call 905-615-3200 ext. R-I-N-K (7465).
For more information about events happening at Mississauga Celebration Square, visit mississauga.ca/celebrationsquare.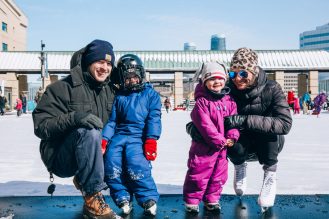 Don't forget to plan your travel this March Break using MiWay's Trip Planner.
To stay on top of what's happening at the City, visit mississauga.ca or follow the City of Mississauga on Twitter (@citymississauga).