German sportswear manufacturer Adidas has a new brand ambassador – our very own queen of Bollywood Deepika Padukone. "Welcome to the family, Deepika," the multinational company announced on social media. Deepika, too, shared a message on Instagram: "Being an athlete and playing sport has played a tremendous role in shaping my personality and helping me become the person I am today. It has taught me values that no other life experience could have."
Deepika Padukone, has become an all-star in many aspects of her life, as an actress, activist, and athlete. As Adidas introduces their partnership, they caught up with her to talk about everything from her passion for sport to her friendly rivalry with Ranveer on who's the better athlete.
Welcome to Team adidas! How do you feel now that the news is officially out?
adidas has been an integral part of all of our lives. We are all too familiar with its iconic line 'Impossible Is Nothing'. Having said that, never in my wildest dreams did I imagine that I would be partnering with them one day. Must admit, that today, I feel a small sense of achievement.
Was it hard to keep this announcement a secret?
Yes! Even when I was planning my wedding about three years ago, which we kept it a secret for a while, wasn't as difficult as keeping this announcement a secret. Now, I feel relieved that this news is finally out!
What excites you most about working with us?
I believe, both the team at Adidas and myself are driven by purpose. I believe we live each day wanting to give back and making the world a better place.
How has growing up with sport as a mainstay in your life, prepared you for today?
You know it's interesting how you often don't realize these things growing up. As a kid playing sport, if someone told me back then that it would change my life forever, I would never have believed or understood it fully.
Sport has taught me some of the most incredible life lessons; dedication, determination, discipline and how to be competitive with the right spirit, and most importantly how to handle success and failure. It has played a tremendous role in shaping my personality and helping me become the person I am today. It has taught me values that no other life experience could have!
Fitness, both physical and emotional, have and will always be an integral part of my lifestyle. Today, when I look back, I cannot even begin to imagine what my life would be without sport!
I am an actor by profession, but I approach my life like an athlete, that's just second nature to me.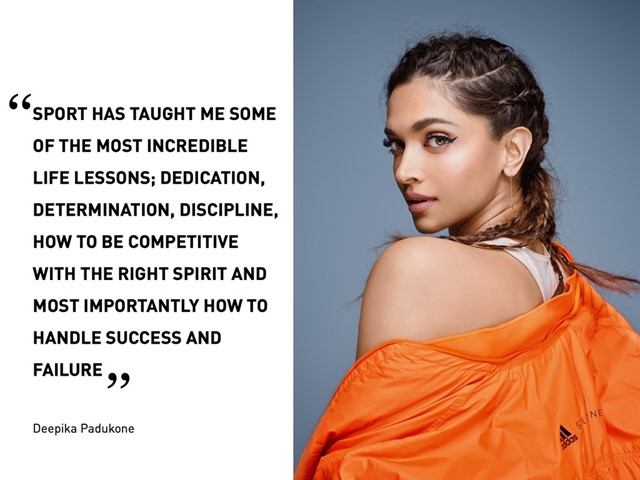 How do you think your athletic upbringing influences your family now?
There is no doubt that we will expose and encourage our children to play sport. My husband wasn't exposed to it as much as I was growing up, but I'm glad we agree that when it comes to our family it is and will continue to play an extremely crucial role.
How do you keep active as a family?
Movement and Fitness have always played a huge role in our lives and in everything we do. As a family, we encourage each other to stay fit always; physically as well as emotionally. On holidays too, we try and be active. Going to the gym, swimming, playing badminton, tennis and squash, and walks are some of the activities we do together as a family. Not only does it help with physical and emotional fitness, it also brings people together and helps nurture relationships.
How do you remain focused on your own health and well-being?
While being an athlete and playing sport has played a tremendous role in shaping my personality and helping me become the person I am today, my experience with mental illness has taught me that there is nothing more important than self-care.
Today, I am able to prioritize my well-being, both physical and emotional, without any guilt attached to it.
Alight, we're going to shift into a brief round of rapid-fire questions where we put you head-to-head with your husband and fellow adidas partner Ranveer Singh.
Who's the better athlete, at Badminton?
Me.
Cricket?
Him.
In a dance off?
Both! It would be a tie!
Nothing like some healthy competition, to keep things interesting. Let's get back to you.
You've already accomplished so much, what more are you setting out to achieve?
My life today is driven by purpose and I believe my choices reflect that. I've received so much and now it is time for me to give back; to my society, to my people, to my nation.
What, if anything would you like to change in sport to ensure sport is for all?
I truly believe if there is one profession in the world that is far more inclusive as compared to any other profession, it would be sport. And that the wealth of a nation is not merely defined by its economic growth and success but also by the champions of sport they are able to produce.
Therefore, I believe that supporting our young athletes, creating opportunities and increasing infrastructure could help further the cause of inclusivity as well as nation building.
What advice do you have for anyone looking to get active?
To play sport. For it teaches you life lessons that no other experience would. Sport changed my life; it will change yours too.