Film fraternity and political leaders convey heartfelt greetings on Makar Sankranti, Pongal, Magh Bihu which is being celebrated by Hindus across the globe.
The Canadian Prime Minister Justin Trudeau in his statement said: "On behalf of our family, Sophie and I wish everyone celebrating Thai Pongal, here in Canada and around the world, a joyful festival.
"Iniya Thai Pongal Nalvazhthukkal."
Here's some tweets from famous film personalities:
A.R.Rahman@arrahman·அன்பு பொங்க, ஆசைகள் பொங்க, இன்பம் பொங்க, இனிமை பொங்க என்றும் உங்கள் வீட்டில் மகிழ்ச்சி பொங்க பொங்கலோ பொங்கல் வாழ்த்துகள்! #HappyPongal#MakarSankranti
Madhuri Dixit Nene@MadhuriDixit·Wishing everyone Happy #Bihu, #Pongal, #Uttarayan and #MakarSankranti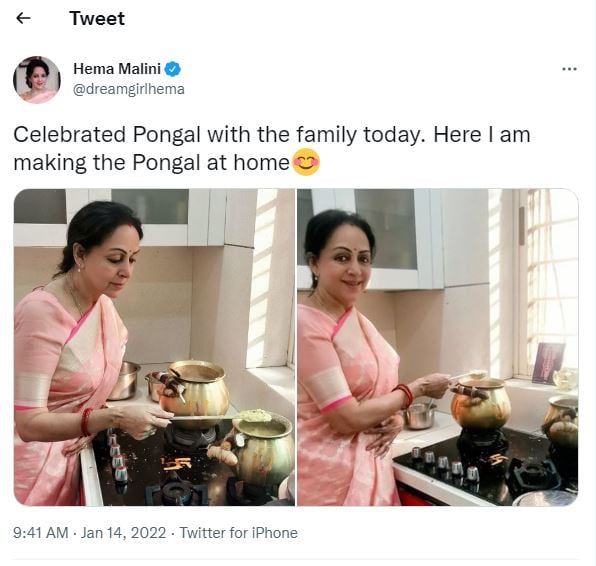 (Credits: Hema Malini/Twitter)

(courtesy: twitter)
Jr NTR@tarak9999·మీకు మీ కుటుంబ సభ్యులకు భోగి, సంక్రాంతి, కనుమ శుభాకాంక్షలు. Wishing you all a very Happy Sankranthi.