Spring in Japan brings more than just cherry blossoms. Tokyo's green spaces erupt into a rainbow of colorful spring flowers. Here are the best spots.
Japan has a huge variety of flora and fauna. Cherry blossoms are world-famous, but that isn't the only reason to go flower watching in spring. Colorful azaleas, wisteria vines and roses, to name but a few, burst into bloom across the country. Tokyo's green spaces, including formal gardens, shrines and parks, are the ideal way to see spring flowers. Festivals and illuminations offer an extra-special way to enjoy the scenery.
Hama-rikyu Gardens
These gardens are home to 300,000 stalks of rape blossoms that form a bright yellow carpet, creating a contrast against the skyscrapers surrounding the park. Between early and late March, Hama-rikyu holds a rape blossom festival, during which you can enjoy Tsugaru-jamisen concerts and an illumination display.
Spot: Hama-rikyu Gardens
Access: 7 minutes on foot from Tsukijishijo Station or Shiodome Station (Toei Subway)
Nezu-jinja Shrine
Nezu Shrine has an approximately 6,600 square-meter azalea garden featuring 3,000 azalea plants of 50 varieties. During the shrine's annual azalea festival, visitors are invited to admire the scenery, to try amazake (a sweet fermented rice drink) at a teahouse and to check out the festival booths.
Spot: Nezu-jinja Shrine
Access: 5 minutes on foot from Nezu Station, Sendagi Station, or Todaimae Station (Tokyo Metro)
Events: Bunkyo Azalea Festival (Tsutsuji Matsuri) April to May
Kameido Tenjin Shrine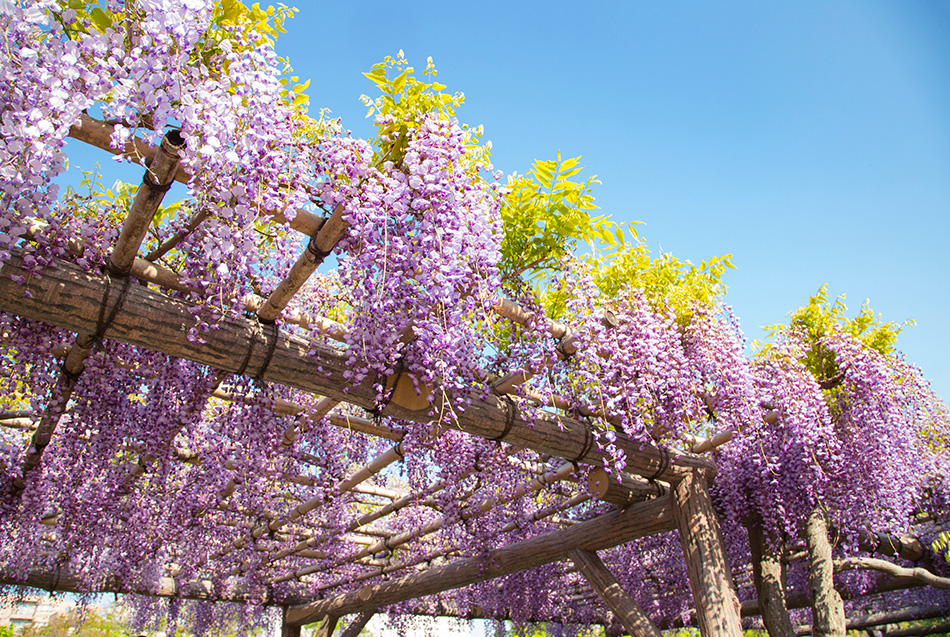 This shrine has 15 trellises supporting as many as 100 wisteria vines that bloom in synchronized harmony. The violet flowers look magnificent by day and especially romantic at twilight.Access: 15 minutes on foot from Kameido Station or Kinshicho Station (JR lines)
Events: Kameido Tenjin Shrine Wisteria Festival April to May
Kyu-Furukawa Gardens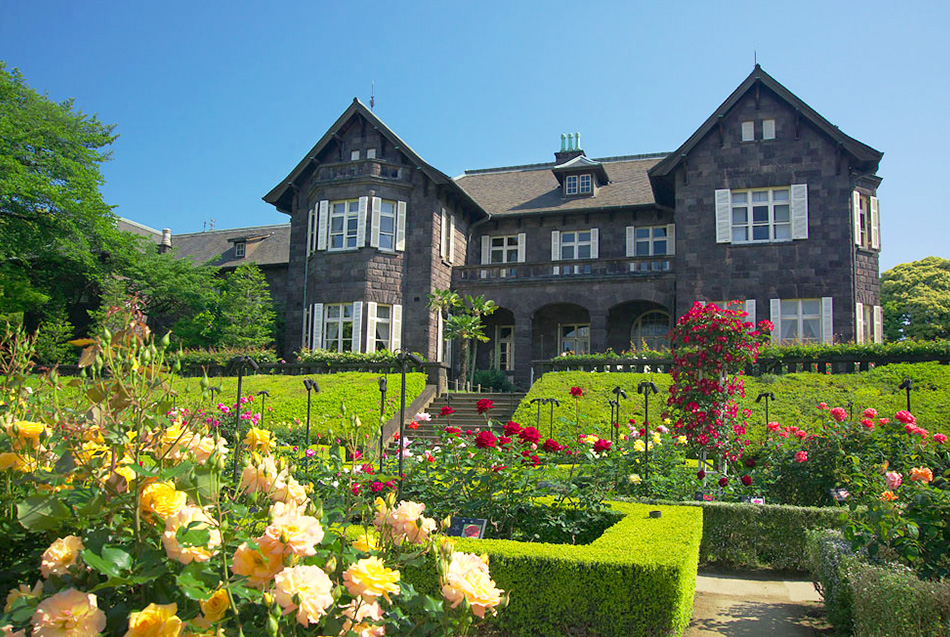 Kyu-Furukawa Gardens offer a splendid view of some 180 roses of 90 varieties. Another beauty that's not to be missed is a strikingly elegant Western-style brick building designed by a British architect. Here, you'll see a fascinating harmony between the Western-style and Japanese-style gardens.
Spot: Kyu-Furukawa Gardens
Access: 7 minutes on foot from Nishigahara Station (Tokyo Metro)
Events: Spring Rose Festival May
Imperial Palace East Gardens (Kokyo Higashi Gyoen)
These gardens span an area of around 210,000 square meters. In May, the gardens' Ninomaru Grove is tinged a rich shade of red as rhododendrons bloom.